The cover of the book has these beautiful birds under hanging stars. Book by Heart of Texas Studio. Paper is by Creative Imaginations. I took a class with Cheryl Mezzetti in Houston last month, and she taught us how to use the Twinkling H2Os to paint paper and die cuts...so pretty!
These hanging stars are made with Epiphany Crafts star button maker. Love those!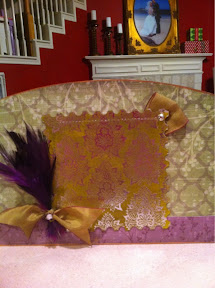 Here is the painted paper and flower we did in Cheryl's class! The colors are fabulous!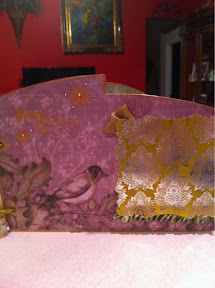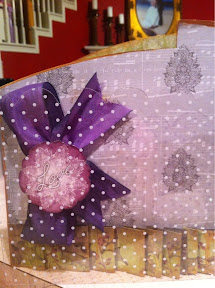 This Swiss dotted overlay idea was also Cheryl's! Reminds us of snow!
Used Viva pearl pens in gold and silver to achieve this look! Pop dotted the die cut bird.
CI's paintable frame, Maya Road's felt flower...Yummy!
Inked the words by Maya Road, then used silver Flower-Soft to accent.
Maya road trim, CI die cut and pearls.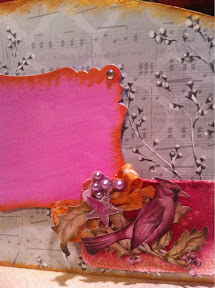 Small Maya Road canvas tag, CI bird die cut and pearls, Epiphany Crafts star button maker...
Back cover--accented with Glossy Accents!